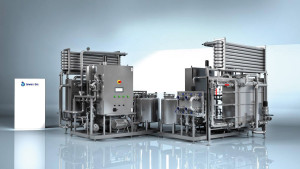 Taking into account the wide range of applications and requirements of Clients, the pasteurisation sets are adjusted to the individual needs. Depending on the application, we offer the pasteurisers both for standard thermal processing of raw milk, and for re-pasteurisation of milk for the purpose of cheese and curd processing machines, and for the property changes of the end product (protein denaturation), in the case of pasteurisation of milk to curdled beverages.
Technological functions of the device are the following:
adjustment of nominal capacity
regulation of the pasteurisation and cooling temperature, and temperature of administration to associated facilities
measurement of the pressure on individual exchanger sections and preserving the required pressure difference
recording technological parameters
The offered systems can cooperate in a set with some accompanying equipments such as:
degreasing centrifuge
standardiser for control of fat content of milk and cream
centrifuge for removal of the bacteria from milk (centrifugate)
homogeniser, including the possibility of partial homogenisation
degasser
microfiltration systems for the purification of milk
ultrafiltration for standardisation of milk proteins
The cooperation of sets of equipment is carried out through an exchange of signals in a fully automatic communication.
Our pasteurising systems meet the requirements of the Directive 92/46/EEC of 16 July 1992 and IDF No. 292/1994.